Banana Jones is a casino board game based on Snakes and Ladders. The betting strategy is similar to pokies except your bet buys you five dice rolls. Feel the excitement as you try to get the cheerful monkey into the temple where treasures await.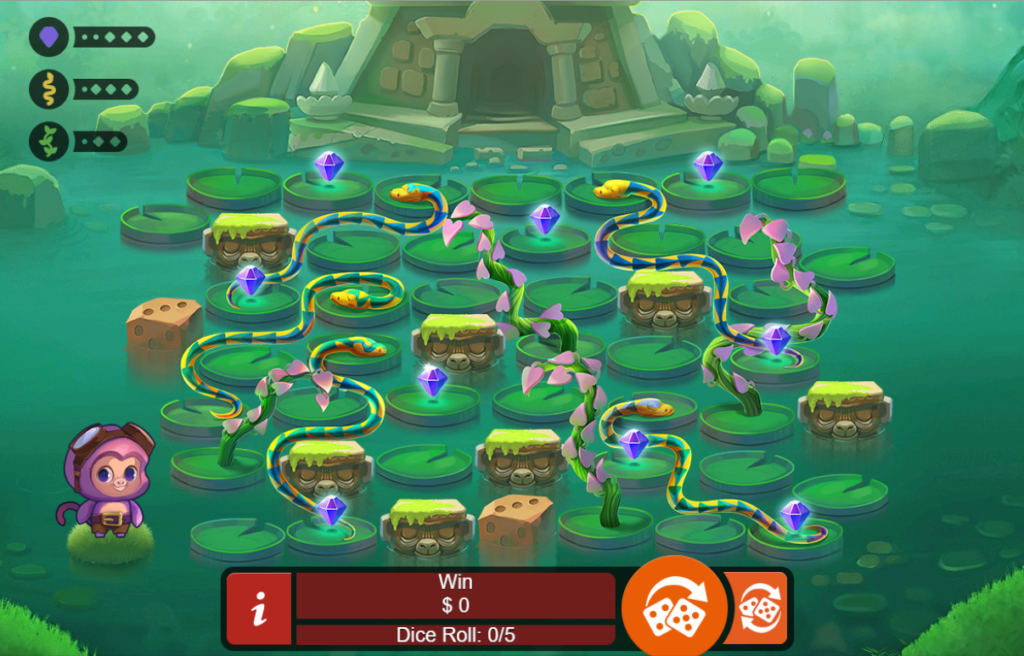 Banana Jones Pokies Review
Before you get to the game board, you have to place your bet. Click the appropriate button to get your five rolls of the dice. Bets are 20 cents, 50 cents, $1, $2, or $5. That bet gives you five dice rolls. The dice rolls are important as that's how you reach the temple to play the bonus game.
Click the large dice button to roll the dice or the smaller one to turn on autoplay. Autoplay rolls the dice automatically. You still have to push the spinner in the Treasure Wheel bonus round.
The monkey hops along the board to match the count shown on the dice. Along the way, you may run into bonus features or prizes. Vines advance you to higher positions on the board. Snakes slide you down to a lower level. The totem rises from the water and awards you a spin of the Treasure Wheel. The remaining two bonus spaces are the dice blocks that give you an extra roll or the blue gem.
The vines, snakes, and blue gems are tracked in a meter on the left side of the screen. Get enough and you may win a prize. It depends on how many you get during the game. Prizes are awarded after your final roll if you've collected enough.

Banana Jones Payouts
If three blue gems were collected, you win 1x. Four or five gems award prizes of 4x and 40x respectively. The vines pay 1x or 25x with two or three of them. The snakes pay 0.5x, 5x, or 5x with two, three, or four of them in the meter.

Bonus Prizes on the Treasure Wheel
When you land on the totem, the Treasure Wheel appears. The spinner is in the center. Prizes range from 0.10x to 50x. This bonus seems to get triggered often, but it is tricky to get more than the 0.10x or 0.20x prize. In months and months of playing it, I've never gotten a prize higher than 0.20x.

The Treasure Chest Bonus Round
If you make it to the top of the board, enter the temple and play the bonus game. Inside the temple are 16 treasure chests. Each contains a fruit-shaped gem. Collect three matching gems and win the corresponding prize. On a $5 wager, the prizes are:
Plum Gem – 5
Pear Gem – 15
Grapes Gem – 40
Apple Gem – 75
Banana Gem – 12,500
Is Banana Jones the most rewarding casino game you'll find? Probably not. It is a lot of fun though and may take you back to the board game most every child grew up playing with family and friends.
Game Info
| | |
| --- | --- |
| Reels | 0 |
| Paylines | 0 |
| Min Coin | 0.20 |
| Max Coin | 5.00 |
| Max Bet | 5.00 |
| Jackpot | x2565 |
| Wild Symbol | No |
| Scatter Symbol | No |
| Free Spins | No |
| Bonus Feature | Yes |